Dream Camp Philly is Swimming!
We are so grateful for the support of our donors to bring this critical life skill to our students.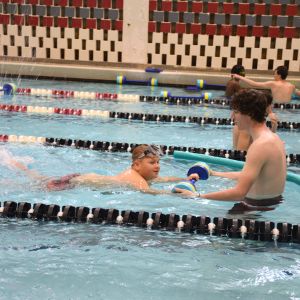 The countdown to summer is ON and Dream Camp Philadelphia is getting ready for its first summer of swimming. On April 29, we visited the pool at Saint Joseph's Preparatory School in Philadelphia to give our students an opportunity to get their nose and toes wet in order to make the most of our summer swim program. A tremendous core of volunteers from SJ Prep, Malvern Prep, Episcopal Academy and Haverford Middle School joined in the fun.
There were many "wins" that afternoon. Thomas taught Mikaela how to blow bubbles under water, Ryan taught Ga'kier how to dive and Journee learned how to do a flip underwater! Dream Camp appreciates the support from our donors, program partners and volunteers to be able to nurture these wonderful memories and critical life skills!